I couldn't help but add a few fair pictures from a couple weeks ago to this post. That little imp, the one making cheesy faces in every picture - yep, that's her almost all day every day lately. She keeps me and her sisters laughing and smiling and we are still so in love with that little munchkin! She's growing into such a
kid
and I mean, really, I bet you want to kiss those little cheeks about as much as I do.
But I digress. On my needles this week I cast on a little garden of Poppies (Poppy pattern by Justine Turner) that I think are going to be adorable. The blue is Skacel Simplicity and the white is Cascade Superwash in a creamy white color.
Ooooh, I ordered these buttons from RetroNaNa's Etsy shop to finish out Lyddie's Bulle so it will be ready for her birthday in November. I was so hoping the colors would be true to the picture online and I gasped when they came and I put the buttons together with the sweater and they were the exact colors I was hoping for - the blue is the exact color of the little peek-a-boo pockets I included. This is what I want from buttons I add to finished projects - something that just totally completes it. I am so picky about buttons which is unfortunate because my funding for buttons is rather limited, but these were really affordable if you ask me. I only need to use two and would love input on which two to use - one goes at the back of the neck and one goes at the waistline. I'm considering one of the Little Reds and the house or the wolf. What would you do?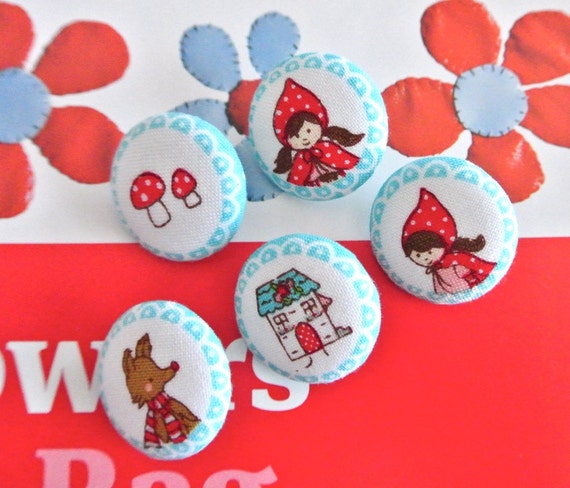 (photo credit goes to RetroNana, I just borrowed it from her site since I haven't had a chance to take a photo yet.)
I am still listening to a few books via CraftLit: This Friday should see the end of North and South by Elizabeth Gaskell and I am plowing through The Woman in White by Wilkie Collins, which has me totally in its grip. What a great mystery! I am also reading North! or Be Eaten by Andrew Peterson and The Last Battle by C.S. Lewis a very little bit at a time but the beauty of audiobooks is that they can just come along with me on my chores during the afternoon rest time or after the girls go to bed in the evening.
My evening knitting entertainment has been varied lately since a lot of great shows just became available on Netflix and Jesse and love to enjoy a good show together. Gilmore Girls was just added so we're able to watch the second season now. We are also watching a Korean show called Secret Garden that is so so fun, and a really incredible anime series that is set in a post-apocalyptic world with giant and mysterious Titans, called, of course, Attack on Titan. Check them out!
Looking forward to seeing what others are doing this week and joining, as always! with Ginny for Yarn Along