Since Amelia was born, I have felt inadequate for the task of being a "good" mother to my two-under-two. I know from an outsider's view, I look like a pretty good mom- my kids are fed, changed, clothed, snuggled, loved, clean, and healthy. But I still sin and I still make mistakes, and it has been nagging at me.
I found myself sighing these five words repeatedly over the last week, sometimes multiple times a day: "I'm such a bad mom." Sometimes I was joking when I would make a silly mistake, like drop a noodle on the baby while trying to eat and nurse at the same time. But sometimes it was over more serious matters; it was frustration at having to change a diaper in the middle of the night, snapping at my toddler when she was being naughty, or difficulty "keeping up" with all the tasks I wanted to accomplish through the day. All Jesse's assurances that I am a good mom did nothing to ease my mind. If my worth is determined by how well I perform as a mother then I knew I was failing, even if it didn't look like it. I could not attain perfection, no matter how hard I tried.
On Sunday (yesterday), our pastor, Tommy Allen, included a few thoughts on this painting by Rembrandt in his sermon: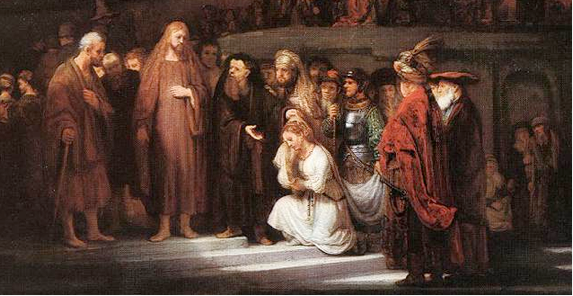 Tommy commented on the fact that this woman, the one taken in adultery and kneeling before Jesus, is trapped and suspended here in her guilt. What she needs to be forgiven and restored to wholeness, is to just look up into the face of Jesus.
I may not have been caught in adultery, but I felt like this woman. I was caught in the endless trap of perfectionism, the drive to add to Jesus' goodness my own goodness. But instead of feeling smug, as some are wont to do, I was feeling helpless and unworthy.
The hard truth is this: I am not a good mom. I am not a good person, not of my own ability. But if anything is good in me, it is from Christ. All my strivings are filthy rags. All my "goodness" is actually sin, when it is done in an effort to save myself.
I told Jesse that if he hears me say those five words again, to just say, "Look up to Jesus." And I, like the woman taken in adultery, will be forgiven, restored to wholeness, and stamped with His goodness. And the amazing thing is that I felt so free; free to love completely and free to succeed or fail; it didn't matter, because I need only to live in the forgiveness and freedom of Christ.